Are you wanting to get ahead of the pack in the job market?
Oil & Gas Companies are looking for qualified people that have these basic oilfield training certifications. This complete career starter course provides you with all the training & certifications needed to stand out & become employed in the oilfield.
Companies are looking for candidates that are ready to get to work but often come across candidates that aren't well trained. By investing in yourself & taking care of your own education, you're showing companies that you're committed to your career.
We can't guarantee you a job, but we can guarantee several companies will be interested in hiring you just by completing certifications with Top Gun Oilfield Training Center.
Why are we so certain? Well, because the only other training provider is Haliburton, but they only train their own employees so the other [how many rigs are in operation] turn to Top Gun to find employees they know they can count on.
If you know you can be counted on apply to discuss enrollment today.
Price includes Lodging at Holiday Inn Express in Floresville and all meals starting Sunday Evening. Airport Transportation and Transportation from Hotel to Training Center is also included.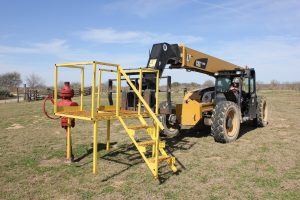 Timeframe of Completion?
This is a 5 Day class starting on Monday and ending on Friday. Applicants should arrive on Sunday at __pm to check in at the Holiday Inn Express in Floresville, Texas. All meals will be provided from Sunday evening until Friday ____
Will Food & Lodging Be Provided?
Yes! Transportation will also be provided daily from the hotel to the training well.
What happens next?
After completion, your name will go on a list of available employees ready to hire and sent to oilfield companies needing employees.